Quite disappointed by the north island, I crossed the Cook strait by ferry from Wellington to Picton. The south island is more beautiful than the north, with many national parks, fjords and glaciers. Even with all these, I was most excited about was my planned sky dive adventure and maybe a bungee jump or canyon swing.
As much as I liked the nature, I hated the backpacking life in New Zealand. Cooking everyday, doing laundry by yourself, checking out at 10am and not much social life. On top of that, the fact that I travelled in peak season and I had to book everything 3 weeks in advance, definitely killed my mood. I missed the flexibility and the relaxed life from Asia. It was nice to wake up every morning and not knowing where I go next.
New Zealand is a beautiful country but to really enjoy it you need to do it properly. It's a shame I didn't rent or buy a car there. Instead of driving myself on the scenic roads, I was stuck in a seat on a bus. Camping in the nature was another thing I wished I would have done instead of paying the ridiculous prices for hostels.
Picton and Marlborough vineyards
The day after I arrived in Picton I went with B's car to explore the region. Our first stop: vineyards and wine tasting. If you are a wine connoisseur you've probably heard of Sauvignon Blanc from Marlborough. This is the most famous wine region in New Zealand and my favourite white wine. We stopped at some small family vineyards and tasted a few white wines. In a good mood, we left driving on a scenic road with beautiful views.
Abel Tasman National Park and Punakaiki
Abel Tasman national park is located just north-west of the island and it has a lot of remote beaches and peaks with amazing views. It is one of the 9 Great New Zealand walks and it takes around one week to hike the entire park. Unfortunately for me I only had one day available and I woke up too late to catch a tour. I had no other option other than hitchhike there and luckily the last person who took me was working for a kayaking rental company. He managed to get me on a boat to a remote beach from where I hiked for around 30 minutes to a nice anchorage. I came back with the kayaking group and got the shuttle back to the hostel.
After Abel Tasman I headed south on the west coast to get to Franz Joseph glacier. The distance is quite long and I decided to stop in Punakaiki for a couple of days, somewhere midway. I've found a hostel by the beach with good reviews and I booked it. It turned out to be one of the best hostels I've stayed in, even though it was located in the middle of nowhere, with no GSM service and closest supermarket 40km away.
Franz Joseph Glacier
As you go south the nature is more and more beautiful and the mountains more impressive. Franz Joseph is one of the glaciers in New Zealand that can be visited. For those on budget, you can hike to the base of the glaciers, but if you have 400NZ$, you can take a helicopter and hike on ice in-between crevasses.
A few kilometres away from Franz Joseph is Fox Glacier, a place where I decided to tick another box on my bucket list and do a sky jump. This spot is one of the best in the world for sky diving. The Fox Glacier and the mountains on one side, the sea on the other side and 13000ft of cold air below. Great experience and a lot of adrenaline.
Queenstown and Milford Sounds
Queenstown is the most beautiful and fun town in New Zealand. It is surrounded by mountains and canyons and next to lake Wakatipu. It is the place where you can spend all your budget in one weekend on activities. Bungee jumping, skydiving, huge swings, rafting and a lot of other crazy stuff. If you are not into these kind of experiences, then you will probably enjoy the hikes in the area or the cool bars and restaurants.
My crazy activity here was the canyon swing jump. I don't know what was in my mind because I am really scared of free falls. I regretted my decision the second after I booked it and I wished it was cancelled due to bad weather. I couldn't even sleep well the night before! However, in the end it was a nice experience. The guys there made it less stressful and pushed me off the platform after counting to two instead of three. Cheeky!
From Queenstown I did a day tour to Milford Sounds, a beautiful fjord on the west coast. It is a long bus ride, but as you get closer the views are epic. It is probably the only place where I was glad to have bad weather. When it rains, hundreds of temporary waterfalls appear on the steep mountains. A beautiful view that it is hard to capture on camera.
Best ways to travel around New Zealand
One reason why I didn't enjoy New Zealand is because I decided to travel around with the intercity buses. It is a quite cheap option, but you are missing out on the most beautiful part of the country: the nature. Buses take you from city to city and they don't stop at different view points, hikes, waterfalls or other interesting things on the way. If you are in a city and you want to visit something outside, it is almost impossible because public transportation is nonexistent in New Zealand. I had to hitchhike to Abel Tasman national park and I had to pay more for the Hobbiton tour to get a pickup from a town. Coromandel peninsula it is also impossible to visit without a car.
One popular way to travel in New Zealand is by hop on hop off tour buses. It means that you pay a fixed price for a route and you can stay in any place along the way as many days as you want. These tours are great for meeting people and travel without the worry of booking buses all the time. The Kiwi Experience and Stray are the most popular companies among backpackers. The price varies from 500NZ$ to 1500NZ$ depending on the route/season/company. This price is only for the transportation, but they usually guarantee one or more nights of accommodation at a discounted price. Kiwi Experience tends to be cheaper, but it is focused on the 18-22 years old backpackers that like to party every night. The main reasons why I didn't do any of these hop on hop off tours is because of the price, lack of flexibility and availability. I travelled in peak season and the buses are usually fully booked. I was told I have to wait in some towns 2-3 days to get an available seat on the next bus.
The best way to travel in New Zealand is by car or camper van. Many people buy a cheap car as soon as they arrive and sell it at the end. The paperwork and the process is very easy and hostels and Facebook groups are full of ads for cars. If you also decide to camp or sleep in your camper van, then you will enjoy New Zealand at it's best. There are so many cheap camping sites in the middle of the nature with all the facilities you need. Definitely a better option than staying in the expensive hostels. For trips less than one month, probably renting a car is a better option.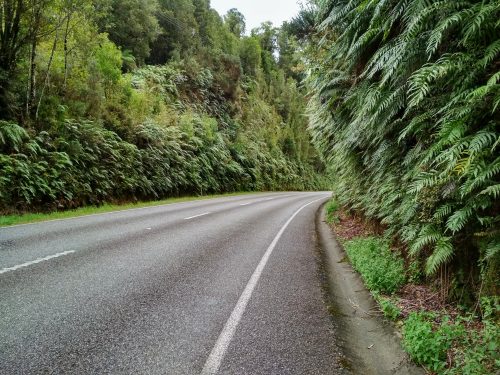 You can travel for free if you decide to hitchhike. Apparently New Zealand is one of the safest and easiest countries to hitchhike. I was forced by circumstances to do it a few times and it was fairly easy. If you have the courage, patience and time it can save you a lot of money. On many Facebook groups people also offer rides from city to city, but usually you have to contribute to gas.
Next destination…
I eventually got my visa for Australia and I will be flying to Melbourne before hitting the east coast. I'm excited about all the spiders, snakes, jellyfish and other things that can kill you with one bite. Fingers crossed I'll survive!
Safe travels,
Raul