For the second part of my trip in China, I focused more on exploring the beautiful nature this country has to offer. I said bye to the pandas in Chengdu and I took an overnight train south to Zhangjiajie and then Yangshuo. So far China was way above my expectations and I enjoyed it so much that I decided to stay another week than I initially planned. I even learned a new Chinese word: fan (rice). Very useful.
Tianmen Mountain and Zhangjiajie National Forest Park
Zhangjiajie area has the most epic and photogenic mountains on this planet (maybe) and it is one of the most beautiful places I have ever seen. These mountains inspired the creators of Avatar for their movie and they attract millions of tourists every year. There are three main attractions in Zhangjiajie. The Tianmen Mountain, the Zhangjiajie National Forest Park and the Suspended glass bridge. Unfortunately I didn't have time to visit the last one. I wish I could visit it just to see the people struggling to cross the bridge. It is probably hilarious.
The Tianmen mountain is very close to Zhangjiajie city and it is easily accessible. To get on top, you get a cable car for around 20 minutes from near the train station. It goes above the entire city and then up around 1000m. It is probably the longest cable car in the world and the views are magnificent. Once you arrive on top, the paths built on the cliffs are breath-taking. For one dollar extra you can walk on the glass paths with see-through floor. Mini versions of the famous suspended glass bridge.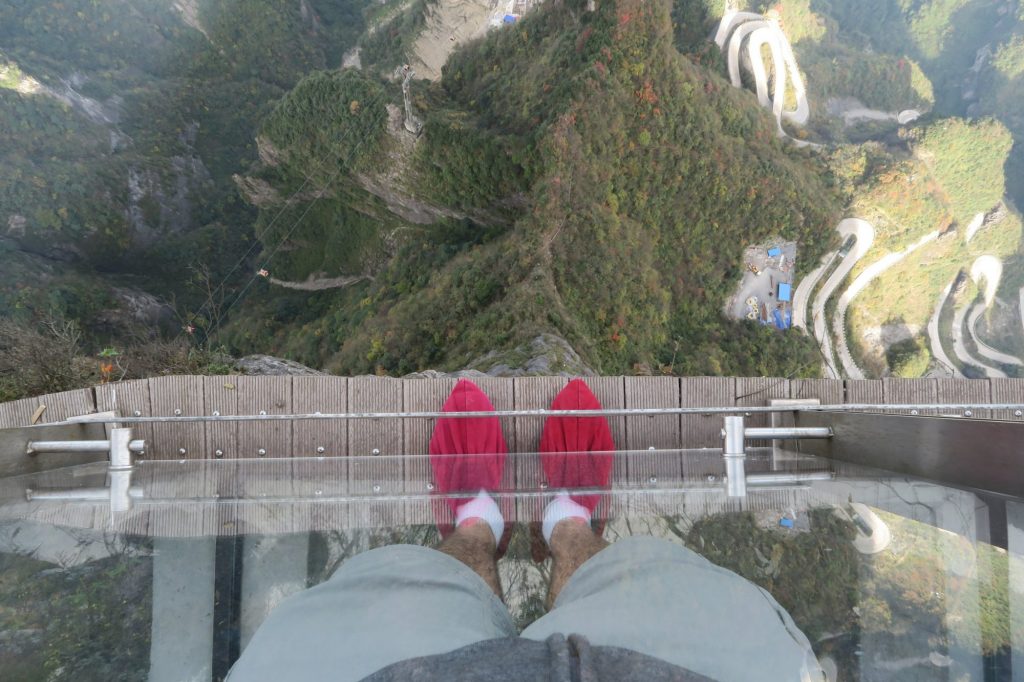 To get down the mountain, there is a set of five long escalators, built-in the mountain. From there you get down around 900 steps to the bus station, followed by a crazy road down to the village. Just wish nobody is car sick on your bus.
The next two days I went to the Zhangjiajie National Forest Park. It is a huge national park one hour away drive from the city and it has the famous vertical cliffs from Avatar. You can hike in the park to different viewpoints and villages. The altitude is a bit over 1000 meters, but like everywhere in China, the paths are paved and it can be done with sport shoes. Some areas of the park are full of big red ass monkeys that tried to steal my food and water. Do not make eye contact with the monkeys!
Yangshuo
I left Zhangjiajie limping after three days of hiking in the mountains and went to Yangshuo. It is another beautiful rocky area with rivers making their way through the mountains. This is the climbers paradise, with vertical walls and caves that are perfect for climbing enthusiasts. I didn't try any climbing, but I enjoyed watching people falling off the bouldering walls at the Yangshuo International Climbing Festival.
The most exciting thing I've done in Yangshuo was riding a scooter along the river and eating snails. Surprisingly good.
How much does it cost to travel in China?
China is not as cheap as I thought. Transportation and entrance fees to touristic places are on top of my expenses. For example, each sleeper train I took was around 60$. Considering that I took a sleeper train every 3-4 days, that is a lot of money. For the big attractions, the entrance fee varies between 20 to 40$. All these add up and drain your budget very quickly. For accommodation, there is a big difference between Beijing and other cities. If in Beijing you expect to pay around 15$ for a bed in an average hostel, in Yangshuo or Xi'An the price for a hostel is 3.5$.
Luckily, in China you can easily save money on food. If you avoid touristic areas, the price of a meal varies between 2$ to 4$, compared to touristic places, where a cheap meal costs between 7$ to 10$. For 1.5$ you can get from the supermarket a nice breakfast, including a yogurt, dumplings and other things.
As a backpacking budget for China, expect to pay minimum 40-45$ per day, all-inclusive, for a comfortable trip. You can save some money by sitting on a bench in a 16 hours night train. I haven't tried and I wouldn't recommend.
Ways of traveling around China
China has a well-developed transportation infrastructure. Considering the distances and the geography of the country, traveling around is fast and efficient. For long distances, you have many options. Planes, bullet trains, night trains or buses. I mostly travelled by night trains since they are comfortable, saves you money on accommodation and a lot of time.
Inside cities you can use buses or metro. In the recent years many of the major cities built modern subway networks and a ride is very cheap, around 30 cents.
The only problem with transportation in China is buying tickets. There is an app, cTrip, available for foreigners, where you can book trains and planes, but the fees are very high. I booked all my tickets directly at the train station and sometimes I struggled to make myself understood. Even though I had a paper with all the details of the train, the people at the counter didn't understand what train I want to book.
Backpacking in China
China is not a big party place and it doesn't seem to be people's first choice in traveling. It is a destination for more mature travellers. Many people I met here are either coming by train from Russia via Mongolia, cycling from Europe or studying/working here. Probably the difficulty in getting the visa and the language barrier are the main factors. There are still a lot of backpackers and I would recommend China even for a two weeks holiday. It should be well planned though.
It seems that a common route that every body does is Beijing – Xi'An – Chengdu. I met a lot of people in my first day in Beijing and then we stayed at the same hostels in the other cities. After Chengdu,  many people left in different directions, but B, T and myself went to Zhangjiajie together. If you are a solo traveler, it is a high chance you will find some travel buddies in China. Booking a sociable hostel is very important.
Next week…
I will leave mainland China and head to Hong Kong for three days before flying to Philippines.