After spending a few days in Beijing, I left the capital and headed south-west to Xi'An and Chengdu to explore something different, more authentic. I think the capitals don't always represent their country very well and to get a real cultural experience, you have to visit different cities. Xi'An and Chengdu are two mega cities in China, with more than 10 million population and important historical and economical role.
Xi'An and the Terracotta army
Xi'An is beautiful city located in the northwest of China. With a history of more than 2000 years, it was the residence of many dynasties and it has the best preserved ancient walls in the world. The tick walls that surround the city are 20 km long and they are so wide that you can do a car race on them. Or a horse race. It is a much calmer city than Beijing and much cheaper. The best part of Xi'An is the Muslim Quarter. If you want to try a mix of Arabic and Chinese food, you have to go there. The Muslim Quarter is a famous area full of street food located near the Bell Tower and the Grand Mosque. You can find everything from lamb skewers to Arabic sweets and breads. The most common dishes are the soups with bread and the meat buns. Delicious!
One of the most known attractions is China is the Terracotta Army. It was created for the first Emperor of China, more than 2000 years ago, to protect him in his afterlife. It didn't really work. Shortly after his death, the site was looted and destroyed. There are three pits discovered, of different sizes and in different levels of excavation. Pit number one is the biggest and the most impressive one. It is the size of an airplane hangar and it has over 6000 soldiers, all with different faces. Only a few soldiers have been reconstructed and it will take many more years to reconstruct them all.
If you are planning to go there, read about it online or in a guide to understand more, because there are not many written explanations around the museum.
Panda Research Center in Chengdu
My next stop after Xi'An was Chengdu, well-known for the Panda Research Center. The city itself is not as nice as Xi'An or Beijing, but if you like animals you can not skip it.
I visited the Panda Research Center in my last day in Chengdu with some other people from the hostel. We woke up at 6am and took a bus to the Center to be there when the pandas wake up and eat. If you arrive too late, all the pandas will be sleeping, since they are not very active during the day. All they do is wake up, eat for one hour and go to sleep again. Boring life.
There are two types of pandas that you can see here: the giant pandas, white and black colour, kung-fu style, and the less known red pandas, which are much smaller and look like raccoons. The pandas are of different ages, from babies to mature adults. Just recently they managed to reproduce them in captivity and somehow save them from extinction. Not many are left in the wild due to the destruction of their natural habitat.
Food in China
Food is one of the best things in China and every region has its own style and special dishes. When you come here you need to be open-minded about food and try as many things as possible. It can get very spicy, oily or too sweet. Instead of eggs or cereals for breakfast, you will probably have dumplings. For lunch or dinner, noodle soup or rice with some protein will be the norm. The main carb is obviously rice, which comes as a side with almost every dish, unless you get noodles. Some things might not be your taste, but in general food is delicious. From the local specialities I can mention chicken claws or pork stomach.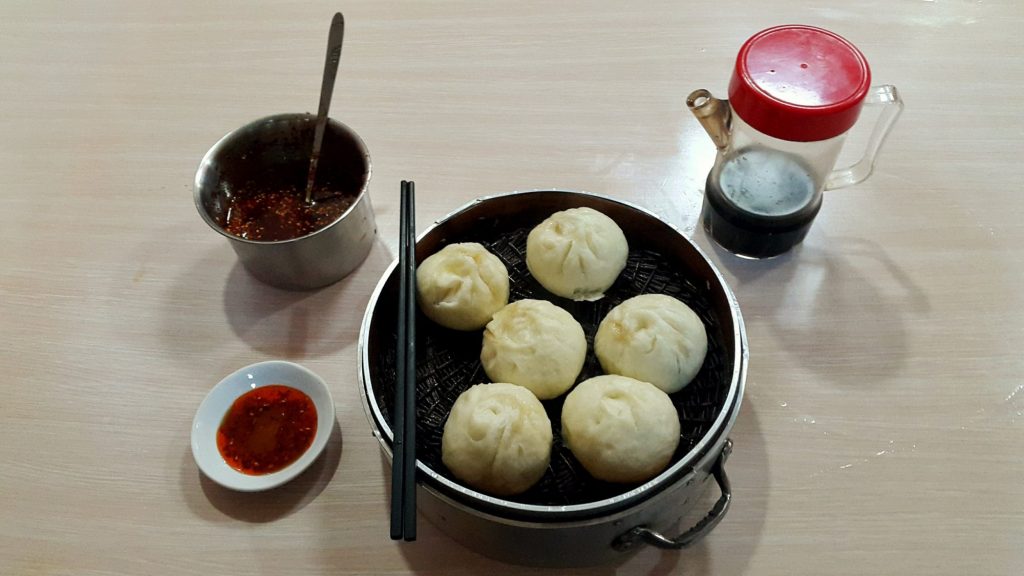 If you come to China and you plan to visit different areas, try not to miss any local dishes because you won't find them in other places. For example in Beijing everywhere you could get Peking duck, but I could not find it in Xi'An or Chengdu. The Muslim Quarter in Xi'An was a unique culinary experience. The Muslims are a very small community in China and some specific dishes can be found only there.
Hot pots are also very popular and traditional in China. Compared to a normal dish, the hot pot has a social part attached to it. You share the same hot pot with everyone at the table and you socialize. Somehow similar with tapas. You talk and drink more than you eat.
Is it safe to travel in China?
YES! It is totally safe. Unless you want to steal a flag. I think America is the only country where I've seen more police on the streets than China. You can find police officers and CCTV cameras in the subway, in big intersections, in trains, everywhere. And as I said in my previous post, they also X-ray your bags at the subway and train stations, so people carrying knifes or guns is not a thing at all. In general here people mind they own business and don't interact too much with westerners. Except for the kids. They say… haaalooo!
Next week…
I will spend my last week in China in Zhangjiajie and Yangshuo, two beautiful areas famous for their landscapes.