Last three weeks have been amazing and crazy at the same time. I've spend two weeks in Palawan and one week in Bohol, an island close to Cebu. I've met some cool people, had some crazy parties and probably gained some weight (damn cheap food!). Due to poor internet connection and being very busy tanning on the beach,  I didn't have time to write a post every week. But here you go, my last impressions about Philippines.
Palawan
Palawan is the best representation of the Philippines and it is one of the most beautiful islands. It is all-in-one place, no matter what your preferences are. You can find quiet places, party places, crowded beaches, empty beaches, crystal clear waters and beautiful coral reefs.
Puerto Princesa, Sabang and Port Barton
As I said in the last post, my first impression of Philippines was not that good and I was really looking forward to see the beautiful beaches with clear blue water. Together with some friends, I took a direct flight from Cebu to Puerto Princesa, the biggest airport in Palawan, located in the center of the island.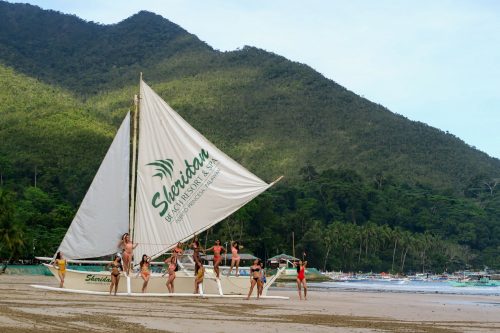 After one epic night in Puerto Princesa celebrating my fake birthday (thanks guys, best birthday party ever!), everyone from the group went in different directions. My first stop was Sabang, a small village with a massive beach and an underground river (one of the seven wonders of the nature). The place was nice, but too boring for my taste. I happened to be there during a Miss Asia Pacific swimsuit competition, which quickly became the highlight.
From Sabang I went to Port Barton, a place I've heard from a friend. A bit off the main road, Port Barton is just beautiful. I can say it is my favourite place in the Philippines. Not touristic at all, with a nice beach and some cool bars, Port Barton has a chilled atmosphere. With electricity running only from 6pm to midnight and poor internet connection, Port Barton is the perfect place to disconnect from the busy life. For around 15$ you can do a boat tour, snorkel and enjoy the white sand beaches.
El Nido
El Nido, the place where everybody goes in the Philippines, hence, very touristic. I was actually disappointed when I arrived. I was coming from Sabang where I was alone on a 2km beach and Port Barton where there were only a few tourists. I don't know exactly how I was imagining El Nido, but it was not like that. It is very crowded, tricycles everywhere, there is no place to walk on the streets, shops everywhere, the beach is full of tour boats. It is a bit of a mess. I guess this is what happens with beautiful places. They become touristic very quickly and everything is ruined.
However, the island hopping tour was good. El Nido has some incredible lagoons, small islands and remote beaches. You can not see everything in one day, even if you do a combo tour. Expect each spot to be full of boats and tourists. My recommendation is to go there, see what has to be seen and move on. There are other cool places that are worth spending more time on. If you have an extra day, don't miss Pacman (Nacpan) beach.
Coron
Six hours away by ferry from El Nido you can find Coron, a beautiful and less touristic island in the Philippines. With a big Coron sign and a huge cross on top of the hill, Coron is a popular destination for divers because of the many Japanese ship wreaks from World War II. If you are not a diver, then an island hopping tour will take you to some nice places, including a fresh water lake with blue water. Some people say the islands in Coron are better than El Nido, but in my opinion they are very similar. Coron has an airport with connections to Manila and Cebu, so you don't have to go back to Puerto Princesa.
Bohol
From Coron I took a flight back to Cebu and then a ferry to Bohol, my last stop in the Philippines. I stayed in Panglao, an island south of Bohol for about 4 days. It is a good place to party, see some nature and get fried on the beach. The Chocolate hills and the Tarsier Conservation Center are worth paying a visit.
If you want to swim with turtles, dive or snorkel in Balicasag Marine Sanctuary you have to pay 250 pesos fee (5$).
Respect the nature
Yes, this is very important when travelling. Do not support activities that don't treat animals well or interfere with nature just to get some likes on Instagram or Facebook. The tiger temples or elephant riding in Thailand are just some examples. Mass tourism is most of the time bad for the environment. Checkout the pictures of the beach from Koh Pagnan after the full moon party or the beach in Bali. In many places the coral reef is bleached because of tourist boats that drop their anchor and destroy the sea life. When you travel, choose an environment friendly option, even if it is more expensive.
In Oslob, Philippines, one popular tourist activity is swimming with whale sharks. For around 30$ you can snorkel next to these beautiful creatures, take some cool photos and even touch them. Why this is bad? First of all the tour boats are feeding the whale sharks every day so they come to the same spot. This changes their diet, migration pattern and breeding activity. Then tens of boats full of tourists gather around the area every morning trying to get as close as possible to the whale sharks, sometimes hitting them. You can read more here or here about why this is bad. I haven't done whale sharks watching and I do not recommend it.
Another popular activity is dolphin watching. I've read stories of how boats are chasing the group of dolphins and try to get close to them so the tourists take close-up photos. Probably some of them are actually hit by the boats. I know it's cheap and fun, but if you really like animals, don't do it.
Most of the times there are good alternatives to these activities. In Thailand you can go to an elephant sanctuary if you want to get close to an elephant. For fish and corals, you can snorkel in protected areas where boats are not allowed to drop their anchor wherever they want. You can watch whale sharks in other places where the rules are more strict. Just think a bit about nature first before doing this kind of tours.
Safety in the Philippines
If you read the travel recommendations for Philippines on your government's page, you will probably get scared and change your mind about traveling here. Terrorists, kidnappings and crimes. In my one month spend here I've never felt in danger. The touristic places are very safe. People here are very nice and religious. Drugs are not a thing, as the policies of the president are very strict. You should probably be more scared of tourists than locals.
However, some areas are more dangerous than others. When I landed in Palawan, my initial plan was to travel with friend far south to Balabac islands. These islands are incredibly beautiful, but due to the close proximity to Malaysia (a Muslim country), there is high terrorist activity there. I spoke with my friend when he came back and apparently the situation is indeed very serious. To get to Balabac you have to register to the local police station and they will assign some officers to protect you while you are there. He showed me a picture of a poster with 10-20 portraits of local terrorists that are searched by the police. He even bought a knife for his own safety.
Mindanao is by far the most dangerous area. The government declared martial law in that area and the kidnappings and killings are real. Not long time ago a German sailor was killed by a terrorist group after the term for the ransom expired.
If you are thinking of visiting Philippines, then do it. The places you will probably visit are very touristic and safe. There is a higher risk of something happening to you at home than here.
Making friends while travelling
I am usually fascinated by the people I meet while travelling. This is one of the main reasons I travel. I've met different kinds of people from all over the world, everyone with their own personality and story. Some were a bit weird, some were super cool, but there was always one thing in common: the passion for travelling. Compared to when you are at home, when you travel you have the chance to meet new people everyday. And it is super easy! Sometimes all you need is the courage to say hi. Most of the people in hostels are travelling alone and they are open to meet someone new. It is not like living in a big city where even your friends seem too busy to socialize. In this environment there is no excuse not to have lunch or a drink together.
"In life, try to not acquire many things, but instead have experiences. One must enjoy life. Accomplish everything you want to do, no matter the effort that it deserves. Life is too short and one must relish it." – A quote from Departures show
However, saying goodbye to people you meet it's the most difficult part of travelling. I've met really nice people in Palawan and our ways separated after a few days. Even if you travel for 2-3 days or a week with someone, you feel a connection, you have fun together, you share a small part of your life with them. You know that you will probably never see them again and they will become just memories in your head. You wish you could spend more time with them, but it is not always possible. Backpacking life is set to fast-forward and you can not stop it. It's intense. You see many places, meet many people and have many experiences in relatively short time. Then suddenly it's over and you get back to normal life. You look through the pictures and you have the best feelings in the world: it was an amazing time with amazing people. And those are your best memories. You just have to accept that some things can not last forever and you must enjoy every moment when you have the chance.
Next destination…
I will spend Christmas in Myanmar, a country with a lot of internal conflicts that recently opened its doors to tourists.